EDJE RECORDS
Coming Soon - E-Store for online ordering of music!
About EDJE RECORDS
EDJE Records is an independent record label based in Wilmington, North Carolina. Smooth Jazz, R&B, Funk and Blues are featured genres of music. EJDE Records was founded by Leonard "El Jaye" Johnson in December 2001 and is a subsidiary of El Jaye Enterprises and El's MusicWorks. The first release was a six song EP release of El Jaye Johnson entitled Just Groovin'. This was followed up by a CD Sampler release on November 1, 2003 entitled EDJE RECORDS PRESENTS "ON THE EDJE…" and featured the talents of David Collins, Tim Shuford, El Jaye Johnson, and the Port City All-Stars. Then on October 16, 2004, "On The EDJE…Live" was released which was a compilation of live performances taken from the "On The EDJE…" mini concert tour from November 2003 through May 2004. This compilation features the talents of many great musicians and singers and is a must-have for all independent label supporters.
Discography
| | | |
| --- | --- | --- |
| Artist | Album | Release Date |
| El Jaye Johnson | Just Groovin' (EP) | December 1, 2001 |
| E. J. Johnson, D. Collins, T. Shuford | On The EDJE... | November 1, 2003 |
| E. J. Johnson, D. Collins, T. Shuford | On The EDJE...Live | October 16, 2004 |
| Acoustic Impressions (E. Johnson/S.Quinn) | Acoustic Impressions | January 29, 2005 |
| El Jaye Johnson | New System of Things | August 25, 2008 |
On The EDJE
This debut compilation highlights the skills of musician, composer, arranger and producer El Jaye Johnson. All songs on this album were written by him*, but he chose to feature the vocal talents of David Collins and Tim Shuford and other special guests. Be sure to order an extra copy to give to the smooth jazz lover on your gift list.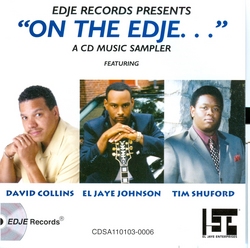 On The EDJE... Live!
When El Jaye puts a band together to go on the road, he gets the cream of the crop. This set highlights the talents of the Port City All-Stars, a polished set of musicians whose abilities are more than stellar. Experience the energy and spontaneity of live performances by David Collins, El Jaye Johnson, and Tim Shuford. Capture the spirit as you become enveloped by the tenacity of musicans Andre' Bright, Tony Mallard, Mike Hanson, Avery Flynt, Roy Harper, Ed Kopp, and many others on this dynamic live set. Feel the emotion on the feature selection "El's Theme," which is a drummer/ percussionist extravaganza. Then rejoice as and melt as you listen to David Collin's rendition of the Sam Cooke classic "Change is Gonna Come." Smooth Jazz and R&B never sounded so good!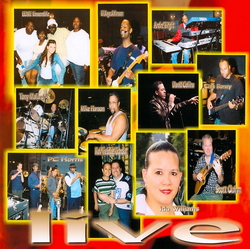 Check out Samples from "On The EDJE..." below
7. Hold On (full version)
10. All Day All Night (remix)
11. EEMAA'S JAM (F. Port City All-Stars)
*written by Mike Raab and The Jelly Bean Bandits
arranged by EL JAYE JOHNSON
Track downloads coming soon!!!
1. Mark "The Emcee" Chamalian
2. All Day All Night
3. Without You
4. Ten PM
5. This Masquerade
6. El's Theme
7. I Just Can't Live Without You
8. Just Groovin'
9. Hold On
10. Change is Gonna Come
11. Lucy Blues (interlude)
12. The Thrill is Gone
13. Hooked (bonus track)