El Jaye Johnson - Musician Extraordinaire
The Man Behind the Scenes... and on the stage!
S
mooth Jazz anyone? How about a little R&B, Blues, Funk, or Reggae? Like beach music or old school swing? Well just ask El Jaye and he will be sure to find you just the flavor you need.

Leonard "El Jaye" Johnson is an extraordinary talent and has earned the title of "One-Man-Band".

El Jaye has been seriously involved with music since age ten, and has developed a deep passion for music and the desire to help others to appreciate music's many benefits. El Jaye wears many hats, both on and off the stage. On stage you will see him energetically bounce around from guitar, to keyboard, to trumpet to singing and dancing. And although he is an accomplished musician in his own right, he likes to be considered an entertainer, rather than just a musician. He thrives on captivating his audience through his music and his dynamic performances and tries to reach not just their feet, but also their hearts. His signature cover is a dynamic rendition of Prince's "Purple Rain."
ACCOMPLISHMENTS
El Jaye also wears the hat of a bandleader and has successfully assembled some of the best musicians around to include in his many productions, including The Port City All-Stars. El Jaye is the founder and owner of EDJE Records, an independent record label, which is a subsidiary division of his business El Jaye Enterprises, based in Wilmington, North Carolina. Since it's founding, El Jaye has worked as a songwriter, arranger, producer, engineer, promoter and educator. He has appeared in many venues, played in many bands, and is continuing to develop his craft. Career highlights include opening up for the smooth jazz super group Fourplay on June 7, 2002, at the BTI Meymandi Concert Hall in Raleigh, NC, and being one of the opening acts for the legendary Temptations Review featuring Dennis Edwards in March of 2001. More recently, El Jaye opened up for Rock and Roll Hall of Fame inductees The Lovin' Spoonful (May 10, 2008) and the classic R&B group The Manhattans (June 7, 2008).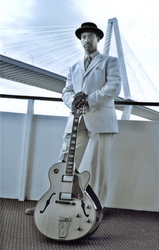 Events
El Jaye is also an event organizer and has a passion for helping youths get involved in the arts. For the past three years he has organized the Cape Fear Community Arts Expo which gives talented artists a venue to display and sell their works. At the same time it serves as a fundraiser for the Community Arts Center in Wilmington, North Carolina. Click HERE for video highlights of the 3rd Annual Community Arts Expo (video by Ralph Angeles video).
El Jaye has performed throughout the Carolinas, Georgia, Virginia, Florida, and even on cruise ships in the Carribean.
Booking information and prices
Links to Other Sites